About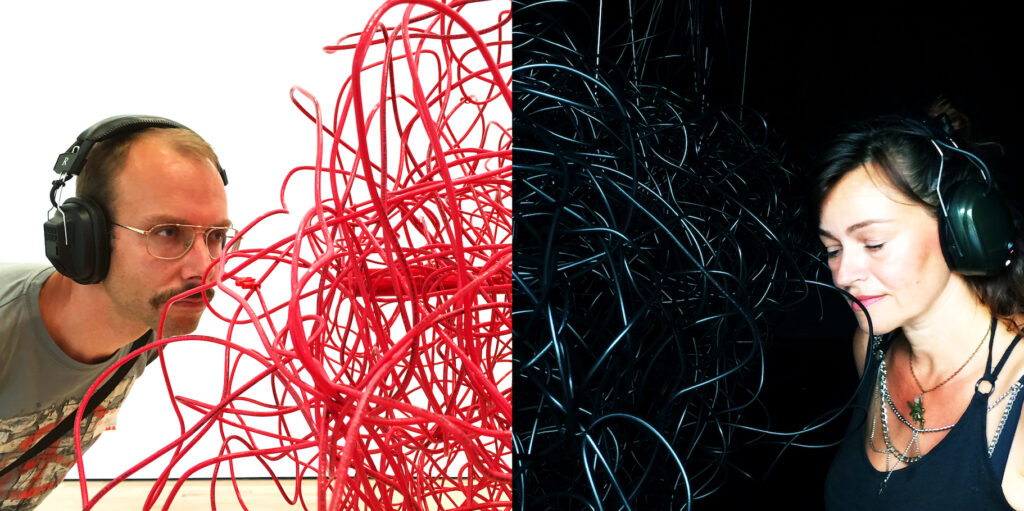 Poison Lolly maakt atmosferische, experimentele pop met invloeden uit minimal music, alternative en EDM. Piano en zang worden aaneen gesmeed tot hypnotiserende songs met toevoeging van zelf ontwikkelde sounds, effecten en af en toe wat gitaar.
Het Haagse duo bestaat uit Mariëlle Pronk (vocalist) en Marcus Graf (componist, multi-instrumentalist). Wanneer de twee elkaar ontmoeten in de nazomer van 2014 ontstaat er al snel een intense, muzikale band. Met een gedeelde liefde voor texturen en langzaam, ontwikkelende structuren, lijkt de muziek zichzelf te schrijven en vanaf de koude winterdagen van 2014 – 2015 is Poison Lolly een feit.
Muzikale invloeden: Radiohead, Lamb, Kate Bush, The Cure, Steve Reich, Nina Simone.
Met heel wat podiumervaring op zak, laten Marcus (Normally Invisible) en Mariëlle (Firefly, live) vanaf 2017 als Poison Lolly echt van zich horen bij onder meer Laagtij, Gluren bij de Buren, Loevesteinsessies, Submarine Festival en Hoogtij.
In 2020 is er een live stream gig en komt een eerste videoclip No Way Out uit.
In 2021 brengen ze hun eerste EP "Origins" uit én 3 singles: Komorebi, No Way Out en Inside, Out!. Deze tracks krijgen volop aandacht van de Noord Hollandse radiozender Alternative FM.
In 2022 verschijnt Loft op het Various Artists album Antilounge #32 bij het gelijknamige record label Antilounge en spelen ze live bij de presentatie in The Grey Space en in Studio Loos.
Poison Lolly laat in 2023 opnieuw van zich horen; in juni komt de videoclip BitterSweet uit en momenteel werken Marcus en Mariëlle aan een nummer voor The Hague Songbook Exchange #2 van het label AntiLounge.
Gig history
25.06.2022 WD4X open day Den Haag
28.05.2022 Loevesteinsessies #27 It May Be the Devil, or it May Be the Lord De Klarist Den Haag
27.05.2022 Podium Noord Power Stage Den Haag
26.03.2022 Studio Loos Release AntiLounge #32 Den Haag
05.03.2022 The Grey Space Release AntiLounge #32 Den Haag
28.03.2020 Loevesteinsessies #16 Into the new horizon live-stream in PL studio Den Haag
09.02.2020 Gluren bij de Buren Student home concert Den Haag
30.11.2019 Submarine Festival Popradar The Grey Space Den Haag
21.06.2019 Loevesteinsessies #11 A Midsummer Night's Dream De Klarist Den Haag
24.05.2019 Hoogtij #57 Refunc Den Haag
11.04.2019 Enter The Waves Festival Gele Kanarie Rotterdam
11.11.2017 Pianobar Don't tell Momma No Way Out Las Vegas, USA
07.09.2017 Clarke's Country Market Inside, Out! Tropic, Utah, USA
24.06.2017 Laagtij PL studio WD4X Den Haag
15.11.2015 B Plus C Singer-Songwriter Sunday Leiden